Diagnostic tests are a key component of patient care, enabling health care professionals to diagnose disease and recommend appropriate treatment. Whether they are being used to help mitigate a pandemic like COVID-19, detect an illness like strep or influenza, or monitor a chronic disease like diabetes, ensuring accurate test results is critical. Environmental conditions such as moisture and humidity can degrade test integrity, negatively impact result accuracy and even limit shelf life.
Aptar CSP Technologies' 3-Phase Activ-Polymer™ platform technology enables a customizable material-science based solution that can be integrated into electrochemical, lateral flow, and molecular diagnostic test kits to protect against environmental conditions that can affect test integrity and put patients at risk. Our tailored process develops an optimized active packaging solution to meet the stability needs of specific diagnostic test kits.
Learn about the many ways our technology can be applied to help preserve diagnostic test stability and assure result accuracy across a wide range of diagnostic testing formats below.
Activ-Film™ Material
Activ-Film™ material can be adhered to the diagnostic test strip itself or applied to the foil pouch containing a diagnostic cassette to adsorb moisture and protect the test's integrity. Using innovative active polymer technology, the film can adsorb tailored amounts of moisture, scavenge oxygen or VOCs, or provide a combination of active protection. Activ-Film™ material can be produced in various shapes and sizes to accommodate any test strip or packaging design to ensure diagnostic test stability.
Activ-Tab™ Molded Polymer Tablet
Activ-Tab™ molded polymer tablets can be integrated into diagnostic cassettes or other packaging configurations to provide active protection without dusting, breakage, or particulates that can cause processing lines to shut down or impact test quality. This solution provides sustained protection for the life of the product and streamlines the manufacturing process while preserving diagnostic test stability to ensure accurate results.
Activ-Vial™ portfolio
Aptar's Activ-Vial™ portfolio of solutions is the industry standard and solution of choice among leading diagnostic manufacturers across the globe for packaging blood glucose test strips. The Activ-Vial™ portfolio of solutions reduces moisture ingress with a proprietary injection molding process that allows the vial to leave the mold cavity before closure, meaning it is sealed sterile. It features an integrated 3-Phase Activ-Polymer™ liner that completely surrounds the contents to provide superior protection against incoming light and other environmental conditions. The active polymer is optimized for ideal, metered, time release to protect the strips from exposure during patient use, even if the consumer inadvertently leaves the vial open for an extended period of time. This eliminates the need for desiccant sachets or canisters while providing superior protection.
Combining our formulation and molding expertise, Aptar CSP can develop a customized active component to create an ideal microclimate, helping to ensure test result accuracy. Active molded components seamlessly integrate into a test kit part to deliver customized protection that assures test integrity and optimized diagnostic test stability. These components often replace an existing plastic part in the diagnostic test kit. The result is maintained physical function while incorporating the performance of the 3-Phase Activ-Polymer™ technology. Aptar CSP's active molded components are currently used in DNA tests, blood glucose continuous monitoring devices, and desktop point-of-care blood analyzers on the market today.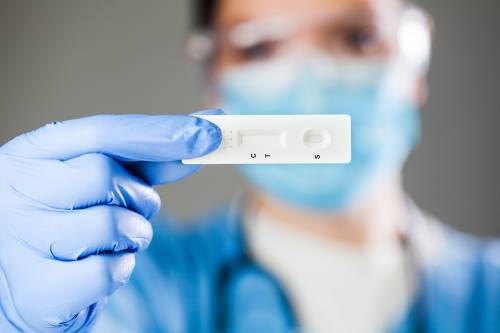 Why Aptar CSP Technologies?
Ensure test accuracy
Controlled microclimate to mitigate risks associated with relative humidity impact on diagnostic components
Reduction of "signal to noise" ratio leading to more consistent test results
Enhance stability
Preserve shelf life and in-use stability performance
Extend shelf life by minimizing moisture ingress that can degrade test integrity over time
Improved operational efficiencies, streamlined manufacturing process and reduced package complexity
No dusting, breaking, or particulate damage during processing
Eliminates labor cost of desiccant insertion
Decrease overall package size and reduce costs of packaging and transportation
Improved and intuitive patient/HCP experience
No loose desiccant pouches or canisters
No risk of accidental ingestion of the desiccant