Two of the most critical aspects of probiotic manufacturing and consumption are the potency and stability of the product. With the probiotics market surging in response to the COVID-19 pandemic and an increased desire to boost immunity and overall health, consumers are more educated on probiotic choices than ever before. They are demanding higher quality probiotic options with more CFUs. Often, manufacturers are forced to go to great lengths to meet these demands and mitigate against loss of potency, typically by adding a significant overage of CFU's (Colony Forming Units) in order to meet label claims, particularly at the end of shelf life.
Aptar CSP's 3-Phase Activ-Polymer™ platform technology offers a simple probiotic packaging solution to help ensure probiotic stability, extend shelf life, minimize the need for significant CFU overages, eliminate the need for cold-chain management in the distribution channel and enhance branding for greater competitive differentiation. Explore our portfolio of active probiotic packaging solutions below.
Aptar CSP Active Material Science Innovations to Protect Probiotic Potency and Efficacy
This brief video explains how our 3-Phase Activ-Polymer™ platform technology can be deployed in a range of physical formats to protect probiotic products. Learn how the technology works and understand the value it brings by protecting probiotic shelf life and potency, minimizing the need for significant CFU overages to meet label claims, and helping brands deliver on their promises to their customers.
CSP™ Activ-Vials and Bottles
CSP™ Activ-Vials and Bottles feature a 3-Phase Activ-Polymer™ sleeve that completely surrounds the product and scavenges moisture, ensuring greater product stability and potency over traditional bottles using a desiccant canister or sachet. Our portfolio of active bottles and vials includes one-piece, flip-top vials as well as screw top bottles in a wide range of sizes to provide optimal moisture protection and enhance probiotic stability. Tamper evident and child resistant features are available.
Activ-Film™ material
For stick pack and foil-pouch probiotic packaging configurations, our Activ-Film™ material is custom-engineered to adsorb moisture and can be applied onto the primary packaging material on your current packaging line to protect your product without disrupting your process. The film can be die-cut into any shape or size to suit your packaging needs and applied to the foil pouch or stick pack via heat-staking, without the need for adhesive. This technology has also been successfully implemented in oil-based probiotics to adsorb latent moisture that resides in the formulation.
Activ-Blister™ Solutions
Our proprietary Activ-Blister™ Solutions configuration is a best-in-class choice for protection of probiotics distributed in blister packaging. This innovative technology integrates Activ-Film™ material into each individual blister cavity to provide the ideal microclimate to protect probiotics tablets or capsules inside a thermoformed or cold-formed blister package. Outfitted blisters can adsorb tailored amounts of water vapor, oxygen, or a combination of the two, and can be produced in shapes and sizes to accommodate any tablet and capsule size by securely binding to the lid stock with or without adhesives.
Activ-Polymer™ Molded Components
Avanti Active Cap
Instant Mixing Active Packaging Solution for Powder-Based Probiotics
Avanti is a novel technology to address the probiotic mixology market, integrating Activ-Polymer™ technology as an internal molded part part inside a bottle cap containing dry powder probiotics. The cap separates the powder from the water until the user pushes the cap to release the powder into a traditional water bottle. Avanti protects the powder against moisture and other environmental conditions that can impact potency and shelf life.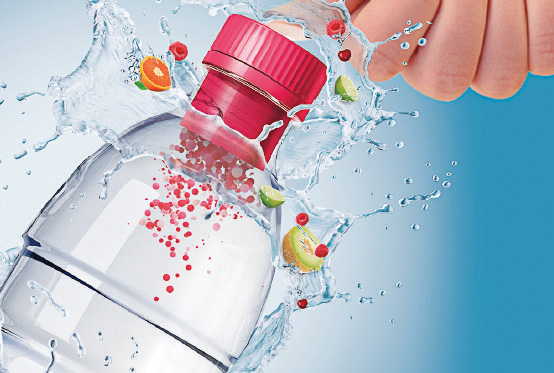 NEO Technology
Drop-In Activ-Polymer™ Molded Sphere for Oil-Based Probiotics
NEO is a first-of-its-kind material science solution that is fully submerged in oil to create a customized microclimate for adsorbing latent moisture. Delivered as a small sphere molded from a unique Activ-Polymer™ solution, NEO offers increased moisture adsorption capacity relative to the Activ-Film™ solution and has the added feature of being able to help mix the contents upon shaking. This solution ensures optimal probiotic stability without impacting user experience.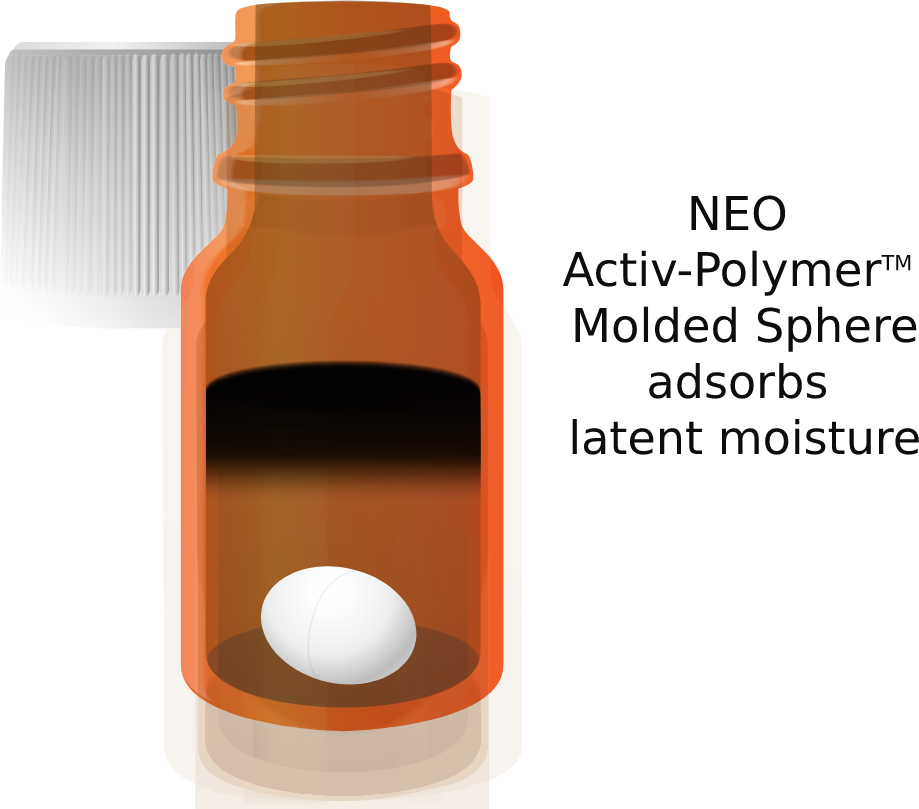 Why Aptar CSP Technologies?
Shelf life extension, enhanced probiotic stability and efficacy
Our technology provides unparalleled protection that eliminates the need for refrigeration and extends shelf life performance over traditional probiotic packaging options. This enables probiotic manufacturers to expand their geographic reach and distribute their product in regions they were previously unable to serve due to stability challenges.
Expanded formulation development opportunities
3-Phase Activ-Polymer™ technology enables the development of unique formulations and combinations of ingredients that aren't feasible in traditional desiccant packaging that provides less protection.
Enhanced viability of cultures leads to cost reduction through reduced overage needs, resulting in higher profit margins
CSP's active packaging solutions maintains the viability of cultures and can enable brands to reduce the overage levels typically required to meet their end-of-shelf-life label claims.
Proven expertise with probiotics
Aptar CSP Technologies is a leader in delivering innovative, high-quality material science and active packaging solutions that give customers a competitive edge and consumers a better experience. Major global brands rely on CSP as a trusted sole source supplier and continue to reinvest with CSP on next generation products.